Thursday, August 3, 2023 / by Tim Elder
After COVID, many people found themselves enjoying outdoor activities in their area more than during pre-COVID times. As a city teeming with over 400 acres of parkland, the Greenville City Council took notice of this trend and decided in 2022 to pass a $10 million Neighborhood Infastructure Bond to reinvest and upgrade all parks. Some of the expected upgrades include shade structures and pickleball courts. In this article, we will look at four recreation spots and the features they have to offer. These locations include Falls Park, Swamp Rabbit Trail, Unity Park, and Conestee Park.
Nestled in downtown Greenville's Historic Westend, Falls Park rests on 32 acres of trails, manicured gardens, scenic overlooks and beautiful waterfalls. At one such overlook of the Reedy River Falls, you will be standing on the Liberty Bridge. This bridge is unique in its lightweight construction as it almost appears to be floating in the air.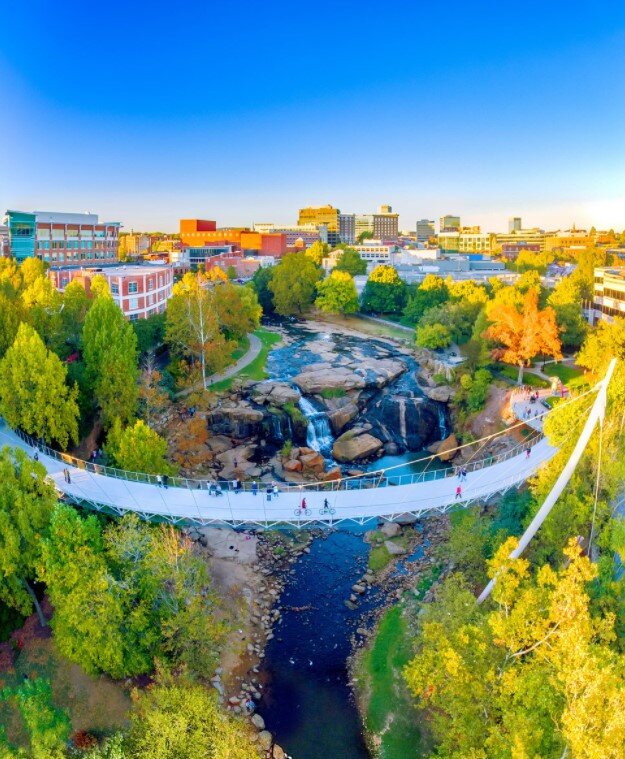 Running beside the Reedy River is the 22 mile course of the Swamp Rabbit Trail used by bikers, walkers and runners alike. As the most utilized recreation attraction, this trail runs from the downtown area of Travelers Rest, through Downtown Greenville, Swamp Rabbit Café and Grocery, Unity Park, Lake Conestee Nature Preserve and into Fountain Inn.
At Unity Park, visitors experience and enjoy the playground, splash pad, picnic shelters, green space, access to the Swamp Rabbit Trail and many convenient restaurants and eateries close by the park.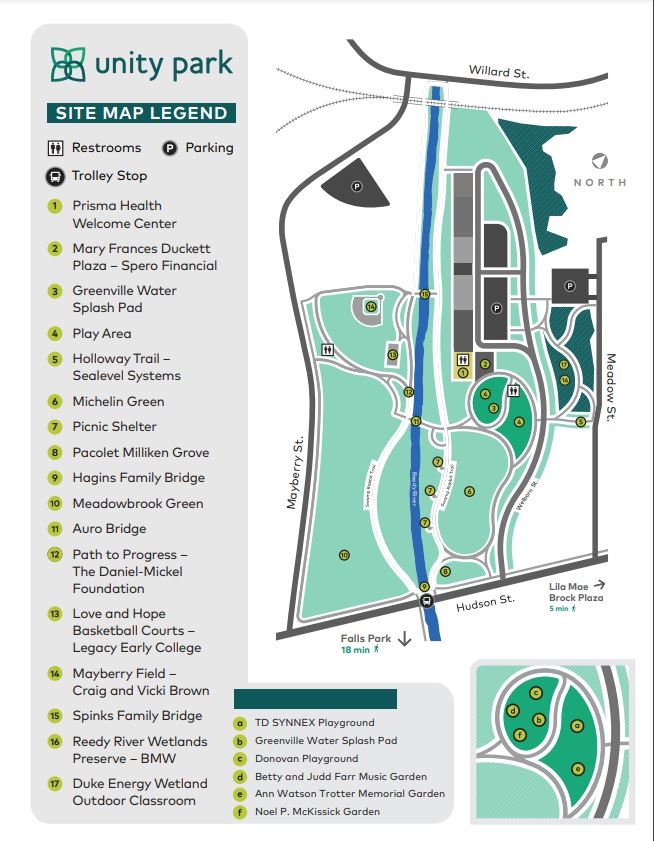 As the newest addition to the city's network of urban parks and gardens, Unity Park is continuing to expand with plans to build affordable housing on the grounds as well as a new facility for adaptive sports. Adaptive sports gives people with physical or intellectual disabilities or chronic health conditions an opportunity to take part in modified sports. In the planned 9,000 sqft of space, people will be able to enjoy areas for education, physical therapy services, post-rehabilitation, bike storage and wellness programs through Prisma Health's Center for Integrative Oncology and Survivorship and its Center for Cancer Prevention and Wellness.
Finally, there is the 13 miles of hiking trails and newly added 3 miles of mountain biking trails at Lake Conestee Nature Preserve.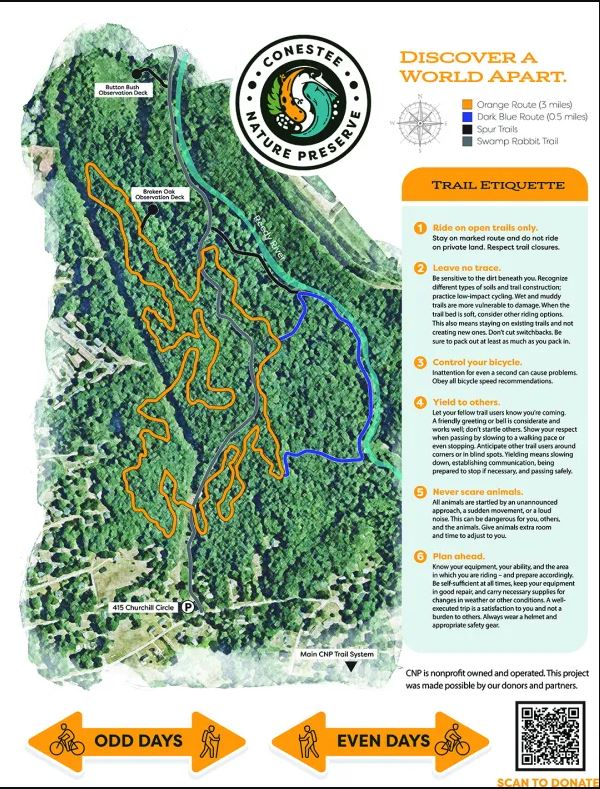 Other features include a playground, green space, observation platforms, benches and bridges. But that is not all this 640 acre Preserve has to offer. The educational program works with about 4,000 young students every year and a new project is underway in early 2023 to create a Nature Playscape for young children up to middle schoolers. Without playground equipment, the Nature Playscape will give children the opportunity to engage in unstructured play with rocks, vines, water, and twigs for building.



Using their mobile guide, visitors have access to interactive maps, fun & games, event information, volunteer opportunities, ways to connect, merchandise and more. Furthermore, many people's love for the park and its experience has prompted the park to offer a way to donate through a memorial or gift opportunity in the form of engraving messages on three different metallic leaf designs that will be affixed alongside other leaves on the Reedy River Bridge.